Small things done beautifully
Central Otago NZ Pinot Noir wine
Introducing a single vineyard New Zealand family-owned, Central Otago premium Pinot Noir Wine. Learn how small things done beautifully can create one of the region's highest quality Pinot Noirs.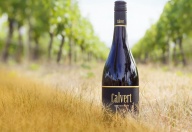 Special shipping rates through Calvert Club
Club
It's widely recognised that some of the world's best Pinot Noir wine is made in Central Otago New Zealand. Calvert Vineyard is located in Bannockburn, Central Otago.
Central Otago
New Zealand

A considered decision
1989 - While working overseas Owen maintained a strong connection to Central Otago and purchased a block of land on Felton Road in Bannockburn acknowledging its unique potential.

An early adopter
1999 - Bannockburn was recognized as a prime site for Pinot Noir production and Owen made the decision to plant the first vines on the property.
2003 - It was an easy decision to transition to organic management. By 2006, the vineyard was Biogro certified. Owen's long term goal is that the land is productive, aesthetically pleasing and sustainable for future generations.

Stay small
Accommodation Cromwell Bannockburn
Today - Start the day on a yoga mat, enjoy a glass of our wine on the porch, have a strum on our guitar, and a night-time star gaze- it's the small things that count. Enjoy a stay at our modern & cosy little cottage, located on Calvert Vineyard with easy access into Cromwell.

Events in the Vineyard
Wedding & Event Venue Cromwell
A future date? - The Calvert Vineyard is a venue, uniquely positioned for a day with a difference. Exchange vows, bond with your work colleagues, gather with the family or host a small concert at this beautiful destination. Create the ultimate album with stunning photo opportunities that the surroundings present. And, it's not just getting that perfect shot, it's creating fond memories.

Calvert Wine Club
Calvert Club members can access special prices and a steady supply of highly regarded New Zealand Pinot Noir through a yearly wine subscription.